The video cannot be shown at the moment. Please try again later.
45 minutos do segundo tempo. Venezia e Bari estão empatados em 1 a 1. Bola alçada na área e Tuta cabeceia com precisão e força: 2 a 1 para Venezia. Vitória, festa nas arquibancadas e no campo… No campo? Algo estranho, não? Só Tuta comemora, seus companheiros parecem frustrados e alguns adversários até aplaudem. O lance levantou suspeitas sobre manipulação de resultados. Esse caso não deu em nada, mas não me surpreendo com a noticia de que nove ex-jogadores do Bari estão em investigação (um já foi preso), acusados de manipulação de resultados. O Futebol Italiano é manchado de escândalos desse tipo, e hoje em dia não é raro ver acusações e investigações nessa linha. E aqui estão alguns casos:
O HERÓI SIMONE FARINA
Simone Farina ganhou o primeiro prêmio de embaixador do Fair Play da Fifa, além disso, o jogador do Gubio (da Série B italiana) ainda teve oportunidade de ser convocado para a seleção italiana como prêmio por ter denunciado, em dezembro de 2011, um esquema para influenciar no resultado de uma partida. Farina receberia o dobro do que recebe por ano para que desse "uma mãozinha" para o esquema. Ele não só negou como denunciou no tribunal. Fato é que a denuncia ajudou a polícia a descobrir uma grande corrupção que agia na Europa toda, 17 presos, no total, incluindo Cristiano Doni, italiano que disputou a Copa de 2002. Farina é visto como herói nacional e não disputou a partida para a qual foi convocado.
GRANDE ESCÂNDALO DA SÉRIE A 2006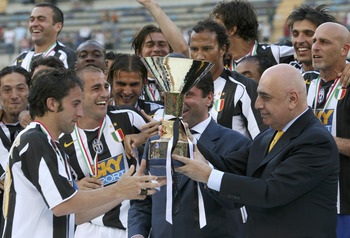 Em 2006, o Campeonato Itália teve uma das suas maiores manchas na história: fora descoberto um esquema pesado de manipulação de resultados que envolvia algumas das principais equipes do pais: Juventus(Que acabara campeão mas perdeu o título para a Inter), Milan, Fiorentina e Lazio. As punições seriam severas: Juventus, Lazio e Fiorentina iriam para a Série B, e o Milan começaria a Série A com 15 pontos a menos, sem poder disputar a Champions League. Porém, as penas foram alteradas e o Milan pôde disputar a Champions; Lazio e Fiorentina perderam pontos, mas ficaram na Série A, e o Juve perdeu apenas 17 pontos (seriam 30, inicialmente), na Série B. Essas mudanças de pena aumentaram as dúvidas sobre a corrupção no futebol italiano.
ESCÂNDALO 2011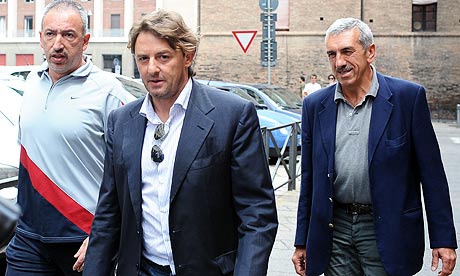 Buffo, Gattuso e Cannavaro foram citados no inquérito concluído, mas nada tiveram a ver com o caso de corrupção no Campeonato Italiano em 2011. Um grupo manipulava jogos para apostas das ligas inferiores da Itália. Tudo começou numa partida em janeiro, quando o goleiro do Cremonese quis, sucessivamente, vender a partida da sua equipe contra o Beneveto. Terminou com 15 clubes punidos e 18 atletas, incluindo o ex-artilheiro da série A, Signori.
COPA DE 1934: ARBITRAGENS SUSPEITAS
A Copa do Mundo de 1934, na Itália, foi marcada por arbitragens ruins, com erros sempre para o lado do anfitrião. O Mundial teve grandes interesses fascistas, o líder Mussolini tentou transformar a competição numa propaganda pró-regime. Com influência direta do ditador, os árbitros eram selecionados para as partidas da Azzurra. Algumas partidas foram tão escandalosas que os seus respectivos juízes foram proibidos de voltar à suas pátrias, caso René Mercet da Suiça e Louis Baert da Bélgica. Já o sueco Ivan Eklind se encontrou com o ditador antes das partidas e teve atuações conturbadas, expulsando jogadores e anulando gols adversários.
PAOLO ROSSI E O TOTONERO
O Resultado da nossa seleção na Copa de 1982 poderia ser diferente, pois o grande astro italiano e responsável por nossa eliminação na Copa estava suspenso pela federação italiana. Rossi participou de um esquema conhecido como Totonero, no qual os jogadores arrumavam o resultado das partidas em troca de dinheiro. Isso aconteceu em 1980. Rossi tinha sido suspenso por 3 anos, mas o último foi revogado para que ele jogasse o mundial de 82. Lazio e Milan foram rebaixados e Avellino, Bologna, Perugia, Palermo e Taranto perderam 5 pontos. Vinte jogadores foram suspensos (entre 6 anos e 3 meses), um treinador suspenso e o presidente do Milan foi banido do futebol.
TOTONERO 1986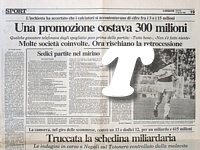 O Totonero bis ocorreu em 1986 e foi descoberto pela polícia italiana e Armando Carbone (amigo pessoal do treinador Napoli, que não tinha nada a ver com a história). Nesse escândalo, treinadores e jogadores vendiam as partidas por dinheiro. Terminou com Udinese e Cagliari (Série A), Lazio, Vicenza, Triestena, Perugia, Palermo (Série B) Foggia e Cavense (Série C) punidos, mais 18 treinadores e cerca de 40 jogadores, com penas entre 3 meses e 5 anos.
*****
ENQUANTO ISSO, NO BRASIL: MAFIA DO APITO 2005
Em 2005, o pior escândalo de corrupção e manipulação de resultados do futebol brasileiro apareceu. Investidores haviam negociado partidas com o árbitro Edílson Pereira de Carvalho para auxiliar nos resultados que eles tinham apostado na internet. Outro árbitro, Paulo José Danelon, também teve participação no caso. Edílson foi preso, banido do futebol e todas suas partidas foram anuladas. O Corinthians terminou campeão do torneio aquele ano, porém, se as partidas qual Edílson apitou não tivessem sido anuladas, o Inter teria sido o campeão. Uma das partidas anuladas foi uma na qual o juiz teria de ajudar o Corinthians, mas ele acabou perdendo para o Santos. Na remarcação da partida, o Timão acabou vencendo.
Siga @futeblog_y33